Based on years of experience working with business owners and technology leaders, having a scalable and secure technology solution is critical to business growth. Our experts have developed IT service packages with cyber security services built-in. These packages help businesses identify the services they need in an easy-to-understand pricing model with predictable monthly billing. Service packages are ready to expand at the precise moment they are required.
Choose Your Technology and Security Service Package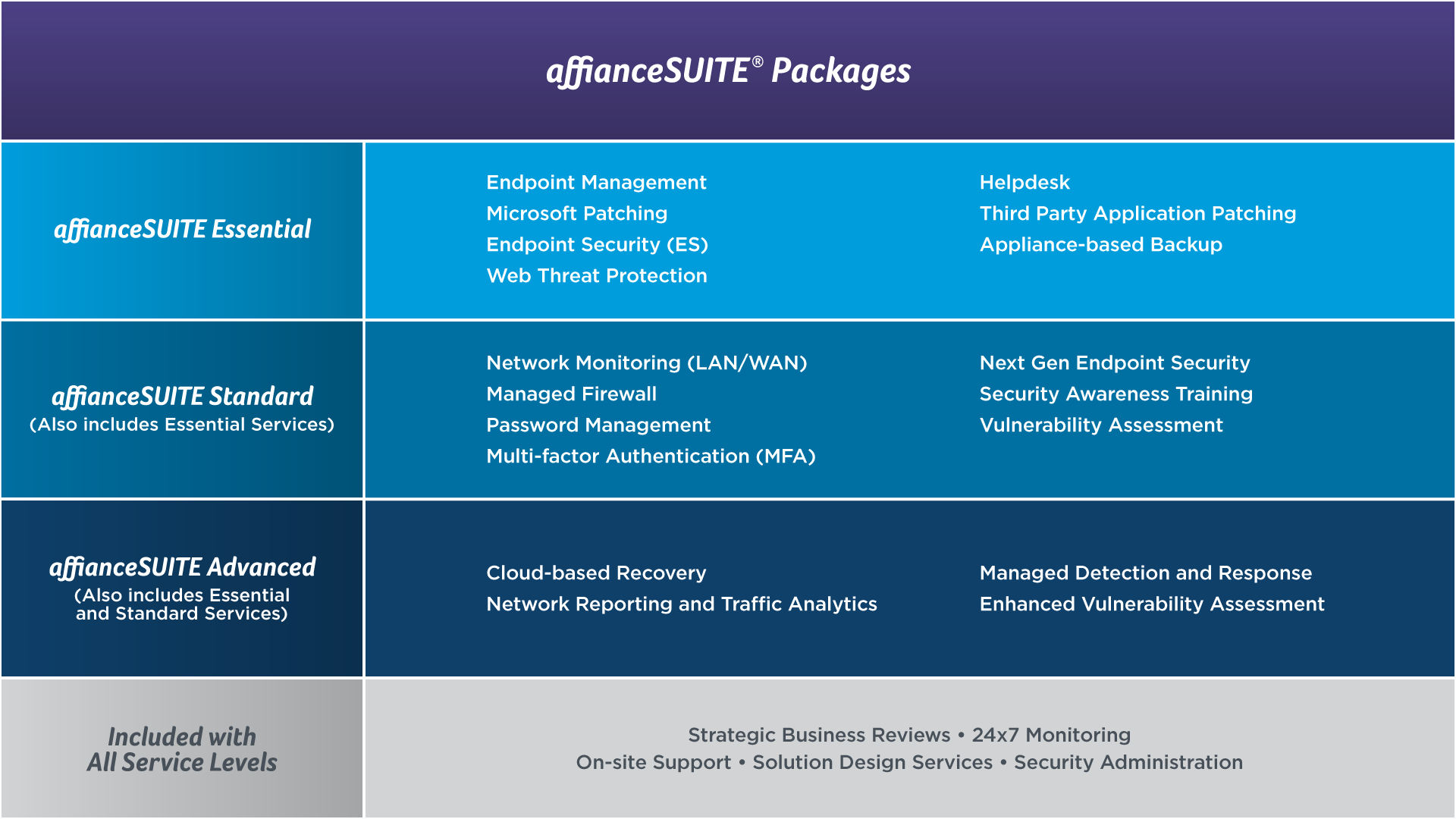 Three service levels for scalability, cost management, and faster implementation:
Essential:  This level is designed to cover the technology and security basics for businesses looking for additional IT support and basic threat protection.
Standard: The most popular service level includes everything in the essential package, plus a robust security offering, enhanced productivity products, and a complete IT solution, including backup and recovery.
Advanced: This level is recommended for companies experiencing rapid growth or a solid digital transformation of their business, emphasizing security and data protection.
Once you determine the right package for your business, the next step is easy. Simply visit with one of our IT consultants to finalize the details on your selected managed services.  
Need help choosing the right managed services package?  Our IT experts can walk you through the best managed services package for your business to make sure you are buying exactly what you need.
The STS Difference
See why thousands of businesses trust STS as their preferred managed technology provider.
"Scantron is a partner we like working with. Scantron went over and above expectations. They brought this solution to us and made us more secure. Scantron's proactive approach gives us peace of mind."
"Scantron brings such a breadth and depth of knowledge that it's like having a whole team available—there's no way we could have hired someone for what we're paying. And their passion for what they do is inspiring. I know I'm getting expert-level support."
"We plan to keep asking Scantron Technology Solutions for additional services until we find something they can't do. We haven't found it yet."
"Scantron has passed all our tests and we're able to go about our business. That's exactly the way I like it."
"I don't want to spend time managing my technology. I'm in the seafood business, not the IT business. I just want my systems to work."
"Scantron worked with us to ensure we've got pertinent security information and event management (SIEM) at our fingertips. And we get the advantage of the intelligence they gain across their client base, which they proactively apply for us before we experience an incident."
"We really appreciate the Scantron team—they are very responsive to issues. We've been working with the team for more than a decade. They always provide solutions to problems that we need solved."
We're probably up nine or ten percent this year, compared to last year. And, of course, there are myriad reasons for that, but I have to give credit for at least part of it to our  new efficiencies and the support we've gotten in implementing them.
In this industry, the normal IT budget is usually about 3.7 percent of sales. Our budget is probably about 1.8 percent.

We've had compliments from other people in the building products industry on our technology. For us being based in South Dakota, our technology is probably much more advanced than that of people in bigger markets.
Any time we buy a new computer or have an issue, for example, if we can't connect to a printer, or a PC crashes, Scantron is ready to help. We've had very good response times. They look at the whole environment, not just the wireless network or the PCs. It's good to know we can make just one call to start diagnosing and resolving any issues. Scantron takes ownership of any issue. The answer is never, "We don't know, we can't help you," but it's rather, "We'll get it fixed."
We can handle some things, but once it gets beyond us, it goes to you guys. Our branch offices submit their service tickets to you directly. I don't even get their ticket numbers anymore because I just know Scantron is going to handle it.
The service is great and everyone is very responsive and knowledgeable. We know we are going to get what we need with Scantron. You always speak to someone who listens to your needs and wants to help you find the best solution.
One Provider for All Technology and Security Services
By packaging your business continuity, security and technology services together, you can make a single phone call to handle any IT performance and availability problem. Our IT experts proactively monitor your systems to minimize downtime and support everything you have. All for a fixed monthly cost.
Technology and Security Basics
Helpdesk – Network Operations Control (NOC) located in Omaha, Nebraska
Endpoint Management – detect, provision, deploy, update, and troubleshoot its endpoint devices.
Microsoft Patching – Regularly deploying new and missing Microsoft issued patches.
Third Party Application Patching – Application of patches to utility software such as Adobe and Java.
MTEP – Managed Total Endpoint Protection delivering anti-virus and anti-malware via Webroot.
Web Threat Protection – DNS filtering protection from malicious websites via OpenDNS.
Axcient Backup – Back-up and recovery service leveraging a local appliance with synchronization to the cloud.
Complete IT and Security Option
Includes everything in the essential package, plus:
HawkNet Essentials – Foundational network monitoring, mapping and management powered by Auvik.
Managed Firewall – Firewall monitoring and configuration management.
Password Management – Generation, storage and management of passwords for local applications and online services.
Multi-factor Authentication – Electronic authentication method via the presentation of two or more pieces of evidence to an authentication mechanism.
Next Gen Endpoint Security – Next generation endpoint protection powered by SentinelOne. (this service will replace the MTEP service in the essential level)
Security Awareness Training – Controlled testing of user security awareness with associated feedback and consultation.
Vulnerability Assessment – Regular internal and external scans to identify, quantify and prioritize security vulnerabilities.
Optimized IT and Security Services
Includes everything in the essential and standard packages, plus:
Axcient Disaster Recovery –

Always on backup and restore software for Microsoft 365 and Google G Suite products that is customizable.

HawkNet Performance –

Enhanced version of HawkNet Essentials powered by Auvik.
Managed Detection and Response – 24×7 monitoring of network activity for protection from cyber threats powered by Arctic Wolf.
Vulnerability Assessment with Risk Management – a broader approach of anything posing a threat and identifying, analyzing, and mitigating effectively.