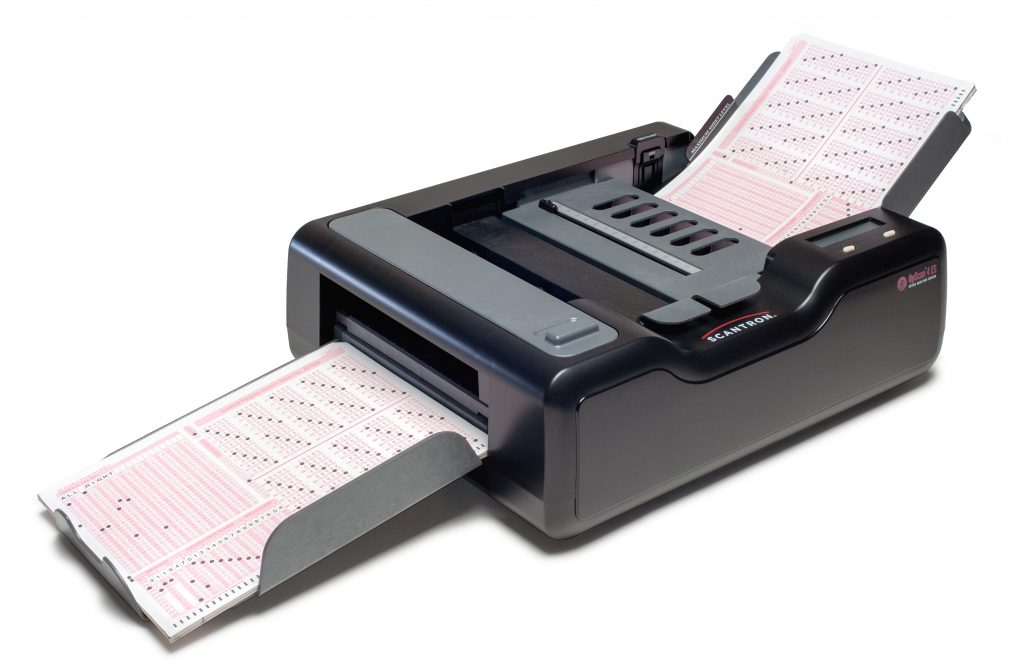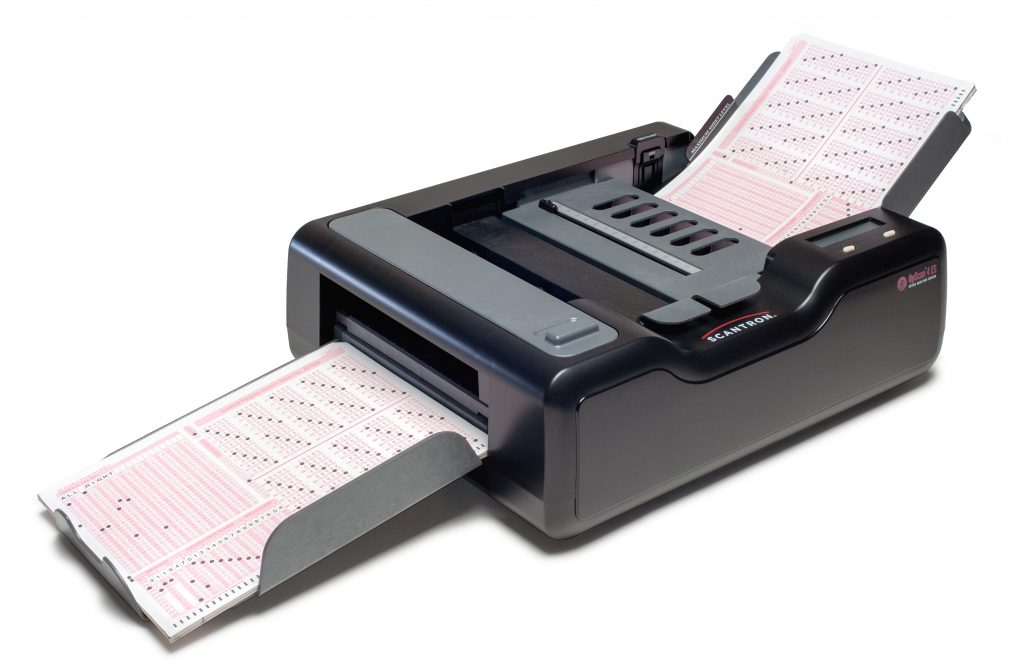 Product Overview
The OpScan 4ES scanner is easy to operate and reads pencil marks from an OMR form. Messages are provided on a forty-character display to simplify operation. An open feed path provides sheet visibility at all times as well as easy access for sheet removal and transport cleaning. Scanner self-diagnostics quickly pinpoint any operating problems.
Accurate, fast, and efficient
Form throughput rate of up to 2,800 sheets per hour
Fixed, automatic feed hopper holds 100 sheets

Scanner self-diagnostics

Sheet thickness detector
Reduces power consumption when not in use
Physical Description
Length: 21.25"
Width: 14.5"
Height: 9"
Weight: 17 lbs.
Environment
Operating Temperature: 60° to 85°F (16° to 29°C)
Humidity: 40% to 60%, non-condensating
Power
100-240 volt operation: 100-240 volts AC (-10%, +6%): 50-60 Hz; US 3-prong plug; 15 amp dedicated circuit
Communications
USB 2.0, using a virtual serial port with user-defined protocol.
Operation
Read Heads: Dual read heads for two-sided form scanning, Contact Image Sensor Arrays, 16 level OMR, Pencil Read Capabilities.
Forms: 2.5" X 5" to 9" X 14" (60 – 100 lb. Off set)
Uses both Mark Reflex and Trans-Optic forms
Feeder Capacity: Auto-feed, 100 sheets
Output Stacker Capacity: 100 sheets main stacker, 100 sheets select stacker (if present)
Message Display: 40 character, alphanumeric
Scanning Rate: 2,800 sheets per hour (actual scanning rate depends on quantity of data read from the form and the amount of processing done on the data while scanning)
Multi-feed detection
Options
Select stacker separates forms that fail edit checks
A programmable interactive printer that prints information on the sheet being scanned – based on the scanned data, such as error codes, alphanumeric messages, serial numbers, validation flags, and test scores – with no effect on the throughput rate
Bar code reader delivers application information
SelfScore® module for classroom test scoring and surveys
PC Hardware
Pentium® processor: 1 GHz 32-bit (x86) or 64-bit (x64) minimum
System memory: 1 GB minimum
Hard drive space: 40 GB hard drive with at least 15 GB of available space
Monitor at 1024 x 768 or higher resolution
CD-ROM drive (for installation)
USB 2.0—OMR processing
Operating Systems
Windows 10 64-bit operating systems, with all hotfixes and service packs installed.