Considering a move to Microsoft Office 365?
The business case is simple. If you have a good internet connection and your team relies on the Office suite of applications, moving to the cloud and paying on a subscription basis streamlines administration and improves productivity. You can mix and match sets of applications. Your team is always working with the latest versions of Word, Excel and PowerPoint, and they can work (and collaborate) from virtually anywhere.
As a leading implementer of Office 365, Scantron has helped hundreds of companies implement it and our world-class team also provides expert support via our contact center in Omaha.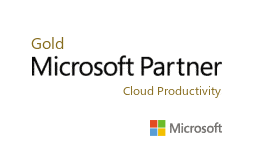 Office 365 offers always-on productivity tools that are hard to beat and simple to administer. As one relatively early adopter of Microsoft Office 365 says. "It's nice to turn subscriptions on and off. We don't have to worry about versions and updates, encryption and security are good, and we get plenty of storage."
Office 365 Package Options
Office 365 ProPlus
Office applications plus cloud file-storage and sharing. Business email not included.
Office 365 Enterprise E1
Business services—email, file storage and sharing, Office Online, meetings and IM, and more. Office applications not included.
Office 365 Enterprise E3
All the features of Office 365 ProPlus and Office 365 Enterprise E1 plus security and compliance tools, such as legal hold, data loss prevention, and more.
Office 365 Enterprise E5
All the features of Office 365 Enterprise E3 plus advanced security, analytics, and voice capabilities.
Office applications included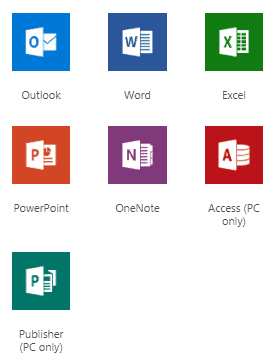 Office applications not included
Office applications included

Office applications included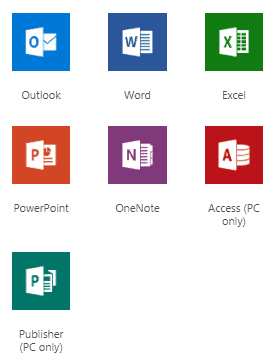 Services included

Services included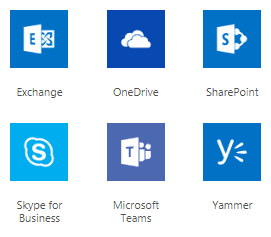 Services included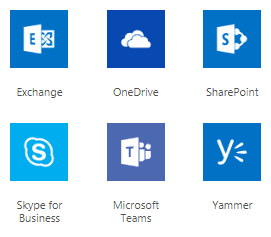 Services included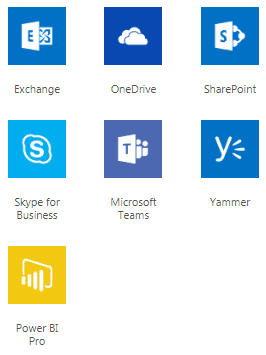 Business email hosting not included
Desktop versions of Office 2016 applications: Outlook, Word, Excel, PowerPoint, and OneNote, plus Access and Publisher for PC 

only 

Web versions of Word, Excel, and PowerPoint
One license covers 5 phones, 5 tablets, and 5 PCs or Macs per user
File storage and sharing with 1 TB OneDrive storage
Skype for Business client available for PC and Mac; Skype for Business service not included
Maximum number of users: unlimited
FastTrack deployment support with purchase of 50+ seats at no extra cost
24/7 phone and web support
Email hosting with 50 GB mailbox and custom email domain address
Web versions of Outlook, Word, Excel, and PowerPoint (desktop versions of applications not included)
One license covers fully-installed Office apps on 5 phones and 5 

tablets 

File storage and sharing with 1 TB OneDrive storage
Inform and engage with communication sites and team sites throughout your intranet using SharePoint
Host unlimited HD video conferencing meetings with up to 

250 people 

Host meetings for up to 10,000 people with Skype Meeting Broadcast
Get a hub for teamwork with Microsoft Teams
Collaborate across departments and locations with Yammer
Manual retention and deletion policies and manual classifications
Search and discovery with Delve
Manage schedules and daily staff work tasks with Microsoft StaffHub
Manage tasks and teamwork with Microsoft Planner
Maximum number of users: unlimited
FastTrack deployment support with purchase of 50+ seats at no extra cost
24/7 phone and web support
Email hosting with 100 GB mailbox and custom email domain address
Desktop versions of Office 2016 applications: Outlook, Word, Excel, PowerPoint, and OneNote, plus Access and Publisher for PC 

only 

Web versions of Outlook, Word, Excel, and PowerPoint
One license covers 5 phones, 5 tablets, and 5 PCs or Macs per 

user 

Unlimited personal cloud

storage 

Inform and engage with communication sites and team sites throughout your intranet using SharePoint
Host online and video conferencing meetings for up to 

250 people 

Host meetings for up to 10,000 people with Skype Meeting Broadcast
Get a hub for teamwork with Microsoft Teams
Collaborate across departments and locations with Yammer
eDiscovery with in-place search, hold, and export
Manage schedules and daily staff work tasks with Microsoft StaffHub
Manage tasks and teamwork with Microsoft Planner
Manual retention and deletion policies and manual classifications
Maximum number of users: unlimited
FastTrack deployment support with purchase of 50+ seats at no extra cost
24/7 phone and web support
Email hosting with 100 GB mailbox and custom email domain address
Desktop versions of Office 2016 applications: Outlook, Word, Excel, PowerPoint, and OneNote, plus Access and Publisher for PC 

only 

Web versions of Outlook, Word, Excel, and PowerPoint
One license covers 5 phones, 5 tablets, and 5 PCs or Macs per 

user 

Unlimited personal cloud

storage 

Inform and engage with communication sites and team sites throughout your intranet using SharePoint
Host online and video conferencing meetings for up to 

250 people 

Host meetings for up to 10,000 people with Skype Meeting Broadcast
Get a hub for teamwork with Microsoft Teams
Collaborate across departments and locations with Yammer
Advanced eDiscovery with in-place search, hold, export, and analytics
Manage schedules and daily staff work tasks with Microsoft StaffHub
Manage tasks and teamwork with Microsoft Planner
Manual retention and deletion policies and manual classifications
Guard your mailbox against malicious links and attachments with Exchange Online Advanced Threat Protection
Control how support accesses your mailbox with Customer Lockbox
Auto classification, smart import, and more with Advanced Data Governance
Assess risk and gain insight into potential threats with Office 365 Cloud App Security
Advanced personal and organizational analytics with MyAnalytics and Power BI Pro
Make, receive, and transfer calls across a wide range of devices with Phone System
Make domestic or international calls from current or new phone numbers with add-on Calling

Plan 

Create meetings with a dial-in number that attendees can join by telephone with Audio Conferencing
Maximum number of users: unlimited
FastTrack deployment support with purchase of 50+ seats at no extra cost
24/7 phone and web support