Scantron Classic Paper Classroom Assessment
Standalone Scanning Devices
Scantron® Testing Scoring Machines and Scantron® Genuine Forms, have been education's gold standard for automated, reliable classroom test scoring for more than four decades. Through our Loan Program, qualifying schools can use Testing Scoring Machines free of charge.
Scantron Loan Program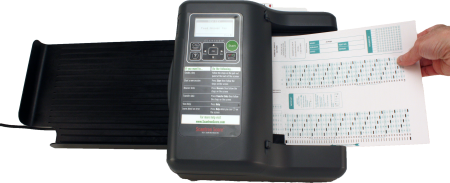 Through the Scantron Loan Program, schools can have long- term use of one or more of our popular Test Scoring Machines free of charge in exchange for meeting an annual forms commitment. The program also offers:
FREE service and maintenance
FREE online training tutorials and videos
FREE technical support
Call 800-722-6876 ext. 7777 to see if your educational institution qualifies for this program.
Software-Based Solutions
Scantron also offers software-based scanning solutions for organizations who need broader functionality and deployment:
Our Get Results package combines the standalone power of Scantron Score™ with the reporting capabilities of Remark® Classroom Edition™ to provide an affordable, shared classroom solution that provides results, not just scores.
Remark Classic OMR® provides an efficient, cost-effective tool to help you quickly process tests and basic surveys, and generate a variety of powerful reports.
Order Forms from the Scantron Store