School-Sized Assessment Solutions
Fixed-Form Testing | Assess Core Subjects and More
Scantron's fixed-form testing solution supports all your subjects in one convenient place. The platform provides fixed-form, highly targeted tests, delivering common content administered using a variety of methods: mobile, online, or on paper. Our content-neutral structure enables you to include items on any subject from nearly any source:
Answer key only scoring from tests and quizzes supplied by your textbook publishers
School-created items
Purchased item banks from Scantron or a selection of other assessment providers
Scantron also offers Quizzes4All, a set of short, targeted quizzes that focus on specific strands and standards. Click here to learn more about Quizzes4All.
Computer-Adaptive School-Size | Test Less, Know More
With a focus on reducing overall testing time, Scantron's computer-adaptive solution provides a single test to measure core skills that you can use in your school for multiple purposes, including:
Identify core subject benchmarks: measure student attainment of foundational skills, independent of grade level.
Personalized learning/individualized instruction: adjust instruction based on student learning objectives uncovered by assessment results.
Growth measurement: compare two scores on a similar test given multiple times a year so you can easily see student progress.
Universal screening: identify students who may require additional instructional intervention and follow that cohort's progress using performance bands and customizable student groups.
Standards tracking: examine student results in light of your school's chosen standards document(s) so you can adjust instruction and report progress to your district without additional work.
A Blended Solution
Educators know that understanding the whole student requires many components—testing, observation, performance-based tasks, student-created artifacts, and more. The combination of all of these components is needed to measure students across all of the hierarchical levels of a cognitive domain.
Even with technological advances, many of the tasks at the highest end of any cognitive domain are best measured through student-created material. Further, some content areas are better able to leverage computer-adaptive technology than others.
The end result is the need for a robust solution that includes computer-adaptive tests, fixed-form tests, and rubric-based assessment. Scantron's testing solutions support measuring and understanding the whole student.
By combining the solutions you can:
Track student attainment of skills over time
The computer-adaptive assessment provides an ongoing measurement of where your students are on the learning continuum using criterion- and norm-referenced computer-adaptive assessment in Reading, Language Arts, Mathematics, and Comprehensive Science. These assessments deliver reliable scaled scores and statistically valid results that accurately map a student's position on the continuum.
Demonstrate grade-level proficiency
The fixed-form, highly targeted tests, deliver common content that tracks and analyzes performance on specific skills and objectives at a specific level of expectation. Instead of trying to measure a student's overall learning and growth, these tests measure proficiency at a specific point in time for each grade level, such as the end of a unit, learning module, or term.
The real power of Scantron's school-sized assessment solution comes from the unified system that enables you to blend both types of tests to measure the whole student.
Classroom Solutions
Standalone Scanning Devices
Scantron® Testing Scoring Machines and Scantron® Genuine Forms, have been education's gold standard for automated, reliable classroom test scoring for more than four decades. Through our Loan Program, qualifying schools can use Testing Scoring Machines free of charge.
Scantron Loan Program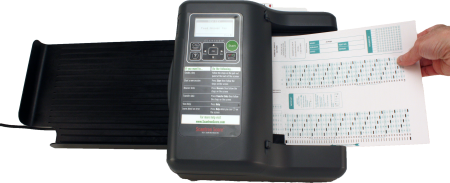 Through the Scantron Loan Program, schools can have long- term use of one or more of our popular Test Scoring Machines free of charge in exchange for meeting an annual forms commitment. The program also offers:
FREE service and maintenance
FREE online training tutorials and videos
FREE technical support
Call 800-722-6876 ext. 7777 to see if your educational institution qualifies for this program.
Software-Based Solutions
Scantron also offers software-based classroom testing solutions for organizations who need broader functionality and deployment:
Our Get Results package combines the standalone power of Scantron Score™ with the reporting capabilities of Remark® Classroom Edition™ to provide an affordable, shared classroom solution that provides results, not just scores.
Remark Classic OMR® provides an efficient, cost-effective tool to help you quickly process tests and basic surveys, and generate a variety of powerful reports.
Order Forms from the Scantron Store