Product Overview

Test Scoring
Scores 200-question objective tests (multiple choice, true/false, matching). Prints an error mark or the correct answer next to the wrong answer. Prints the total number of wrong answers as a raw score or percentage and raw score. Prints a serial number identifying each form.
Easy Result Transfer
Using the USB port and a USB drive, easily transfer test results from the Scantron Score to your computer for analysis in Remark Classroom Edition, Remark Classic OMR®, or any Scantron desktop or web application that supports scanning via the Scantron Score.
Item Analysis
Prints the number of tests processed, number of students answering each question incorrectly and an average score.
Performance-Based Scoring
Combines a score from an objective-based test with results of a performance-based assignment into one raw or percentage score.
Ballot and Survey Tabulation
Tallies responses from elections, community surveys, course or instructor evaluations, etc.
Scan Area
Reads up to 100 items per side (multiple choice, matching, true/false, etc.).
Need Forms & Supplies?
The Scantron online store is your one-stop location to order forms and scanner supplies.
Get Results! Scantron + Remark™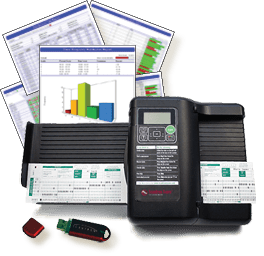 You need accurate, reliable results for your tests and quizzes. For more than 40 years, Scantron has had a proven track record for assessing student and employee knowledge efficiently and accurately. Use a Scantron® scanner to quickly score your tests and the power of Remark™ reporting to analyze the results. With just a few clicks, identify your students' gaps and achievements.
Specifications
Physical Description
Length: 24.25″
Width: 12.0″
Height: 12.0″
Weight: 7.4 lbs.
Environment
Operating Temperature: 60° to 85°F (16° to 29°C)
Humidity: 40% to 60% (non-condensing)
Power
100-240 VAC (-10%, +6%), 50-60 Hz
US 3-prong plug
15 Amp dedicated circuit
Power Consumption
Active: 13W (max)
Sleep: 4.3W
Off: 0.2W
Regulatory Compliance
UL Listed
RoHS Compliant
Class 1 LED Product
Image Sensor
Contact Image Sensor Array
Light Source
Infrared LED's (pencil read)
Display
128 x 64 pixel graphic LCD
Paper Handling
3 3/8″ X 5″ to 8.5″ X 12″
Output Stacker Capacity
30 sheets
Scanning Rate
40 sheets per minute
System Requirements
No PC Required!
All you need is a nearby grounded electrical outlet and you're ready to scan and score test forms.
If You're Using Scantron ScoreIT
Scantron ScoreIT is designed for use with a K-12 classroom and test size of less than 75 students. Other software, such as Remark, may be purchased for use with larger tests or classroom sizes. Scantron ScoreIT requires:
Windows 8 or 10 (32- or 64-bit)
1 GHz or faster processor
2 GB RAM
5 GB available hard disk space
Microsoft Excel 2003 or above.
NOTE: Microsoft Excel 2013 is not supported due to an Excel bug, which was resolved in Excel 2016.