Product Overview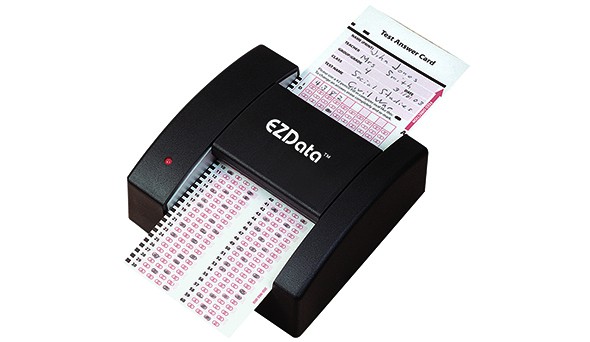 Standard Features
Small size measures 5.5″ by 5.5″
Handles forms 3.25″ by between 3.25″ and 14″
Accommodates 25 to 30 hand fed forms per minute
Uses a standard USB computer connection
Indicates readiness with red/green LED light
Single-side read head tilts up for easy cleaning
Supported within ScanTools® Plus and ScanTools Plus Link SDK
Ideal for:
Classroom testing
Customer satisfaction surveys
Course evaluations
Climate surveys
Instructor evaluations
Conference evaluations
Skills testing
Quality inspections
Training and development surveys
Need Forms & Supplies?
The Scantron online store is your one-stop location to order forms and scanner supplies.
Specifications
Communication
USB 1.1 or 2.0 connection
Physical Description
Length: 5.54″ (140.72 mm)
Width: 5.54″ (140.72 mm)
Height: 2.60″ (66.04 mm)
Weight: 2.5 lbs. (1.14 kg)
Environment
Operating Temperature: 41° to 113° Fahrenheit (5 to 45 degrees Centigrade)
Operating Humidity: 30% to 80% non-condensing
Storage Temperature: -40° to +140° degrees Fahrenheit
Storage Humidity: 5% to 90% non condensing Power
Power
Voltage Range: 100-240 volts AC 47-63 Hz
CE Mark Certified: External Universal Power Supply
Operation
Hand Feed: 25 to 30 forms/minute
Power On/Ready Indicator: Two Colored LED, red and green
Single Side Read Head (Bottom): .25" spacing (1 timing mark/12 responses)
Form Sizes: Range from 3.25" x 3.25" to 3.25" x 14"
Form Type: Ink (pencil, blue and black ink marking instruments may be used)
Stackers: Eject form out the back or the front of the scanner
System Requirements
PC Hardware
Pentium® processor: 1 GHz 32-bit (x86) or 64-bit (x64) minimum
System memory: 1 GB minimum
Hard drive space: 40 GB hard drive with at least 15 GB of available space
Monitor at 1024 x 768 or higher resolution
CD-ROM drive (for installation)
USB 1.1 or 2.0 connection
Operating Systems
Windows 10 64-bit operating systems, with all hotfixes and service packs installed.