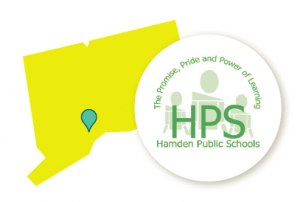 Hamden Public Schools (HPS) in Connecticut has a mission: "Ensure all our students learn to the best of their potential each and every day they are entrusted to our care." They apply this mission daily to a racially, ethnically, and economically diverse community of 5,800 students.
94.8% 5-year graduation rate
91% of students go on to 2- or 4-year college educations
Extended services include
Pre-K programs
Family resource centers
Alternative secondary school
Member of the Smarter Balanced Consortium
---
Yesterday…
District leaders were concerned that they did not have tools that supported their efforts to understand struggling students and measure the effectiveness of intervention programs.
While the district had a lot of available data, that data came out of different systems, such as their student information system, their assessment tools, and more. District staff was spending a lot of time and effort manually analyzing data.
"We were using a lot of spreadsheets," says Sue Smey, Director of Media, Assessment and Intervention for Hamden. "We couldn't pull it all together and slice and dice it the way we wanted to."
The lengthy spreadsheet process made it difficult to accurately assess the effectiveness of interventions and to use measures beyond high-stakes test scores to demonstrate student growth.
"We didn't have the ability to analyze multiple data points for each student. We couldn't easily aggregate and disaggregate data. Having to manually analyze data was inefficient, and because it was time intensive, it quickly became outdated," says Smey. "We just couldn't answer a lot of our questions."
Enter Scantron Analytics.
Today…
Teachers and administrators now analyze student data in minutes instead of weeks. Critical data sets provide an effective catalyst to professional development, collaboration, and instructional adjustment.
"We're not only able to answer our original questions more quickly, but we're now able to dig deeper and answer questions we couldn't even have asked before."

Sue Smey, HPS Director of Media, Assessment and Intervention
Hamden uses Scantron Analytics automated connectors to continually load the most recent data from their student information system (such as attendance, discipline, and demographic records), Smarter Balanced data, literacy and math assessment scores, and physical fitness data.
They were immediately able to dig deeper into a factor they had observed, but could not explain. "We have a high rate of chronic absenteeism among our kindergarten students," says Smey. "Playing with our data in Scantron…we discovered that our attendance on elementary early-dismissal days was significantly worse than at other times."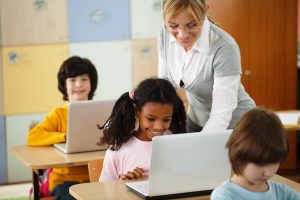 Investigating further, they learned that parents struggled to find partial-day childcare for early-dismissal days. So they changed their academic calendar to eliminate some early-dismissal days and adjust others to coincide with early dismissal days in secondary schools. They also hired staff to track attendance, implemented programs to motivate students, and visited parents at homes to build relationships and offer support.
Smey says, "Where these strategies are being implemented with fidelity, we are seeing improvements."
In other cases, Scantron Analytics exposed a pattern they had not previously been able to see. One high-poverty school reported a high percentage of students meeting benchmark on one-mile runs. Hamden is using this new insight to identify the factors for this success and to see if additional resources or approaches can help them replicate these results at other schools.
Overall, their time savings has been significant. "We went from taking days to manually prepare a report using spreadsheets to minutes using a couple of mouse clicks in Scantron Analytics," notes Smey. "We're not only able to answer our original questions more quickly, but we're now able to dig deeper and answer questions we couldn't even have asked before."
Tomorrow…
Hamden sees plenty of room for expansion. "We're planning to add data points from other subjects, such as science and fine arts, and we're even planning to add library circulation data," says Smey. "This may help us identify areas where we are leading and enable us to replicate our successes."
"We went from [data review] taking days using spreadsheets to minutes using Scantron Analytics."

Sue Smey, HPS Director of Media, Assessment and Intervention
They're identifying other patterns, as well, and implementing programs to address the issues they see. Smey says, "We now know from our Scantron Analytics data that we're seeing an increase in math and literacy achievement in 6th grade. We wanted to find out why."
Deeper analysis identified that 6th grade is where the district introduces instructional departments. In each school, the instructor with the most enthusiasm for a subject teaches that subject to all students in 6th grade, and students are clearly responding to that model.
"I'm going to coordinate with the Superintendent to bring the department model down lower to perhaps 3rd grade so we can provide students with the best possible instruction at all grade levels," plans Smey.
Scantron Analytics has been a big part of streamlining how Hamden identifies and tracks instructional adjustments and interventions and evaluates their results. Scantron is proud to partner with Hamden Public Schools and support their ongoing excellence.
---