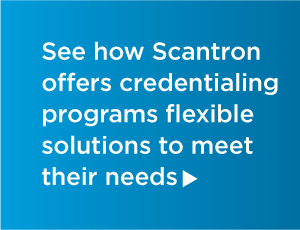 As you consider the development of a new credentialing program or seek strategies for growth of an established program, choosing the right vendor is key to your success. Scantron has partnered with hundreds of associations, corporations, and government bodies over the past 30 years to successfully develop, deliver, and grow both national and international credentialing programs. Scantron's policies, procedures, and technology enforce best practices in the testing industry according to NCCA, ANSI 17024:2012, and ABSNC standards. As you begin research, consider asking yourself these questions.
Psychometrics and Leadership
Are the psychometrics and organization leadership well regarded by others in the industry?
Have they held key leadership positions in the credentialing industry?
Have they worked with a variety of clients and a diversity of professions over a long period?
Does the testing vendor have a sufficient number of highly trained psychometricians to support your program at all stages?
Have they demonstrated their ability to provide sound consultation and advice in accordance with NCCA and ANSI 17024:2012 requirements?
Technology and Platform
Are psychometric best practices fully integrated into the tools and technology?
Are you paying attention to whether a vendor's technology offerings are based on acquired tools and systems that were never designed to work seamlessly together from the start?
Is your current technology user-friendly?
Does your current technology have a 99.9% up-time?
Technical and Customer Support
Is your testing vendor outsourcing its technical and customer support?
Are you confident that the candidate interactions with testing personnel accurately reflect the values and reputation of your credentialing organization?
Is customer support outsourced thereby compromising the vendor's ability to fully understand and respond to your organization's values and objectives?
Can you rely on your current customer support to meet candidate needs consistently and in a timely matter?
Solutions Offering
Is your current vendor maximizing your program potential with offering dynamic solutions to your program needs?
Does your current vendor offer solutions that are client-centric?
Are you provided flexibility in your testing modalities?
Scantron knows each credential carries its own unique values. We offer solutions that are flexible to meet your needs – from start to finish.