Career and Technical Education has come a long way from the "shop class" of earlier generations: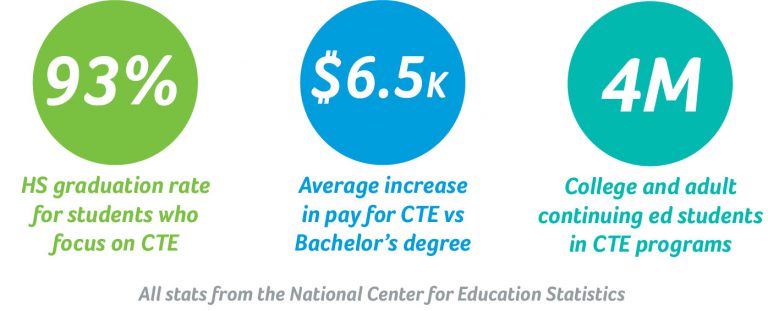 As the world becomes more technical, students of all ages who are looking to start new careers or enhance their qualifications turn to Career and Technical Education (CTE) programs. In these program, they learn the concepts and practices needed for success. Their first steps rely on passing rigorous certification or licensure exams to prove their knowledge.
Certified professionals are all around us:
Automotive: Your mechanic must be certified in general engine repair, brakes, suspension and steering, electrical systems, and environmental systems, plus any higher-level credentialing for their specialty.
Household Services: Plumbers, HVAC technicians, and electricians need to be licensed and certified nationally and at the state level to prove their expertise and knowledge of local, state, and national codes. They also must keep their core system knowledge current via continuing education and assessment.
Information technology: Both corporate and home-service IT technicians typically hold credentials in basic cybersecurity and general data/networking knowledge, plus any vendor-specific certifications (Microsoft, Apple, Cisco, etc).
Healthcare: Nurses, doctors, administrators, and other healthcare professionals are required to hold certifications in their areas of specialty and to continually educate themselves in their field by renewing those credentials regularly.
Environmental Health and Safety (EHS): Trained and certified professionals safeguard the food we eat, the water we drink, the buildings we live and work in, the machinery we work with, and much more.
Programs to gain these credentials are available through high schools, community colleges, universities, and private education providers. The Association for Career and Technical Education (ACTE®) defines CTE as programs that "prepare youth and adults for a wide range of high-wage, high-skill, high-demand careers." CTE programs support learners from high school through their adult years, providing lifelong and continuous learning.
In modern education, college and career educational standards recognize that there are many paths to help learners find the career that inspires them. Some ambitions need a college degree. Others rely on more immediate entry to the workforce—a college degree is not necessary for success. Both paths are equally valid, as they support students and their ambitions for meaningful and satisfying lifework. Scantron is proud to support CTE programs around the world with high quality, valid, and legally defensible assessments.
---