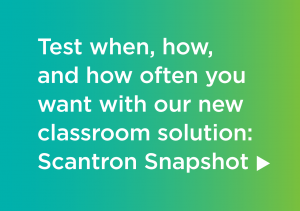 Among the challenges facing you may be facing in the next academic year, few are more imperative than addressing unfinished learning due to the pandemic school closures. Tackling unfinished learning is a high priority that will set the course for instruction and remediation in the '21-'22 school year and beyond.
Unfinished learning reflects topics that were not or could not be accommodated within the restrictions imposed by remote learning during the pandemic. Combined with the "summer slide" we're all used to and compounded by the difficulties experienced during remote instruction; "lost learning" is a great concern for many educators.
With the mandate that 20% of CARES Act funds be dedicated to addressing learning loss and unfinished learning, earmarking a portion of those dollars to classroom assessments just makes sense. By ensuring a strong approach to classroom assessment, with more immediate results and direct effect on your instructional adjustments, you can zero in on the lessons, concepts, and students most impacted by unfinished learning.
Classroom assessments have numerous advantages:
Personalized approach: Classroom assessments measure concepts in smaller chunks, enabling you to intervene early for struggling individuals and adjust instruction for broader groups. You get a better sense of where your students are, both collectively and individually, in real time, without having to wait for standardized test results.

Data-driven curriculum: Ongoing data analysis from classroom assessments builds a full portrait of your class and the individual student needs within it. You can deliver classroom tests to measure achievement weekly, monthly, quarterly, and more, so you have evidence of every step of each student's learning process. Visual reports illustrate how the data changes over time so you can see how your instructional changes are closing achievement gaps and recovering learning for all students.
Evidence-based planning: Use the data gleaned from classroom tests and quizzes to ensure that each next academic step is based on data specific to each student. Unfinished learning is not a single line in the sand: every student missed instruction or lost skills at a different rate, so it's crucial to build individualized plans with measurable goals that address equity, student circumstances, and achievable student outcomes for growth.
CARES Act funds provide an unprecedented opportunity to invest in the future trajectory of your students, and formative assessments are a natural starting point for the '21-'22 academic year. Educators can use the data from these assessments to guide lesson planning, adjust instruction, and maximize student growth.
---