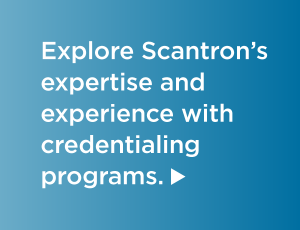 It has never been more important for the certification industry to make a compelling case on the beneficial role that certification plays and the impact/benefit it has for the public.
High-stakes testing plays an important role in the careers of a wide range of professions. Certification and licensure are a requirement for many individuals to work in their chosen fields. In other cases, passing a high-stakes exam provides the means for these individuals to market their expertise to the public or the employers seeking skilled professionals.
A well designed and executed high-stakes testing program is a critical component of a certification or licensure program. The benefits of a psychometrically sound program include:
Confidence among certificants and licensees in the high-stakes testing program's quality and fairness.
Recognition and support from professional, legislative, and regulatory bodies
Belief in the value of the credential in the marketplace.
Brand identity that promotes the idea of protecting the public and other stakeholders
An added revenue stream to the credentialing body as candidates pay fees to take the high-stakes test or maintain their certified status.
Scantron has a strong reputation with 30 years expertise and experience in test development and the science of psychometrics. We offer extensive experience gained through years of service in leadership positions with the Institute for Credentialing Excellence (ICE), the National Commission for Certifying Agencies (NCCA), the Association of Test Publishers (ATP), the American National Standards Institute (ANSI), and the Council on Licensure, Enforcement, and Regulation (CLEAR). Our psychometric expertise is widely recognized and has been solicited for leading publications such as Certification: The ICE Handbook, Guidelines for Performance Examinations (ICE), and the revised Joint Technical Standards for Educational and Psychological Testing (AERA, APA, NCME 1999).
---