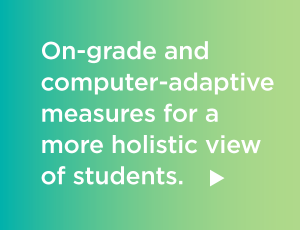 "In the case of good books, the point is not to see how many of them you can get through, but rather how many can get through to you."
Mortimer J. Adler (1902 – 2001)
Text complexity forms a core part of assessing student reading levels, but is not easy to determine. According to Appendix A of the Common Core State Standards, "The tools for measuring text complexity are at once useful and imperfect. Each of the qualitative and quantitative tools…has its limitations, and none is completely accurate." Other challenging state standards face the same concerns.
To address this issue in our Reading assessments, Scantron employs a range of quantitative and qualitative measures to ensure high-interest, grade-appropriate, complex texts—both authentic and commissioned—for students in grades K–12.
Like the Common Core State Standards, Scantron too addresses text complexity through a three-pronged approach.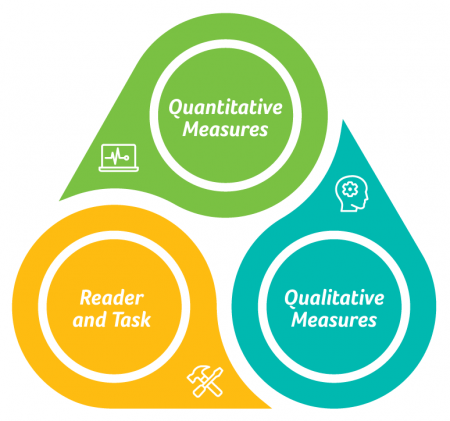 Prong 1: Quantitative Measures
(computer programs that calculate readability scores)
Quantitative measures take into account word length, word frequency, word difficulty, sentence length, and text length. Scantron runs several readability programs on all of its texts. The goal is to have two scores fall within a predefined range. At times, however, qualitative measures may be deemed more important or more accurate. Consequently, when texts have quantitative results that do not fall within the desired range, qualitative measures are taken into consideration. The table below shows the quantitative measures run on each text at each grade level.
Grades K-2
Spache
Fry Graph
Flesch Grade Level
Grades 3-5
Spache
Fry Grapch
Flesch Grade Level
Powers-Sumner-Kearl
Grades 6-12
Dale-Chall
SMOG Flesch Grade Level
Flesch Reading Ease
Prong 2: Qualitative Measures
(measured by humans, not computers)
Qualitative measures consider text meaning and structure as well as language conventions and knowledge demands. Looking at these attributes helps determine the appropriateness of a text for any given grade or task. Rubrics are used to show an objective evaluation of these text elements.
Prong 3: Reader and Task Considerations
Considering both readers and tasks is key to text and item development. In this final prong, text and item writers take into account student motivation, knowledge, background, and experience. Writers must be cognizant of the purpose for reading, the complexity of the tasks related to the text, and the complexity of associated items.
Beyond the prongs
The key is making sure there is a mix of high-interest, grade-appropriate, authentic, and commissioned texts
Imagine a fifth-grade text. Its quantitative measures are on target. A rubric of its qualitative measures deems it grade- and task-appropriate. Seasoned educators believe students will have the background and experience to successfully read and understand this appropriately complex text…but there isn't a fifth grader alive who wants to read it.
One of Scantron's primary goals is to make sure this is not a scenario students encounter when reading a text in Performance Series or Achievement Series. How is this accomplished? By having a variety of high interest text types, some of which are authentic and some of which are commissioned.
Authentic Texts
Authentic texts, generally speaking, are not written for the classroom. They are shared in their original form without changes to vocabulary or grammar. They include reading materials that people encounter every day such as magazine and newspaper articles. They are often scientific or historical, such as a technical manual or a president's inaugural address. Scantron carefully chooses these texts from public domain sources. It also partners with vendors to ensure content is current and interesting.
Scantron's authentic text offerings are both informational and literary and include over 250 titles among which can be found poetry and fables, classic works of literature, biographies and historical documents. More pieces of authentic text are added to Achievement Series and Performance Series on a regular basis.
Commissioned Texts
Authentic texts, because they are not altered in any way, have their limitations. Only some skills may be addressed using any specific piece of authentic text. Only some tasks may result from the reading. For this reason, Scantron also provides commissioned texts in its products. These texts are written by professional writers with varied backgrounds and experiences.
The first question asked is, "What are we trying to measure?" From there, Scantron's writers craft high-interest texts, both fiction and nonfiction, to cover a wide variety of skills. From dramas to mock websites, Scantron offers nearly 1,500 commissioned passages between Achievement Series and Performance Series and is adding to its offerings on a regular basis.
Scantron's team of assessment experts and psychometricians, coupled with its many talented contributing writers, puts great thought and effort into every text that goes into its products. Scantron strives to have a wonderfully varied pool of writing that is "worth reading and re-reading, and capable of supporting rigorous questions grounded in evidence from the text."[1]
As authors Kylene Beers and Robert E. Probst wrote in their book, Note & Notice: Strategies for Close Reading, Scantron wants to be part of a comprehensive educational experience whereby "those first graders who can't wait to begin this grand adventure called school…become twelfth graders who don't want it to end."
[1]      "Selection of Authentic Texts for Common Core Instruction: Guidance and a List of Resources for Text Selection." EngageNY, 25 Feb. 2013, www.engageny.org/resource/selection-of-authentic-texts-for-common-core-instruction-guidance-and-a-list-of-resources.
---