October 6, 2020
Scantron's tradition of localized community giving continues with a new generation.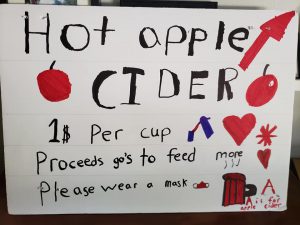 John Anderson, Scantron Senior Proposals Manager, was approached by his eight-year-old daughter to set up a lemonade stand. After some excellent parental coaching, they decided that apple cider this time of year might be more successful (market research!). John's daughter took the idea all the way from planning, to creating posters, to setting up the stand itself. She inspired her six-year-old sister, and together they sold hot apple cider (with a cold option).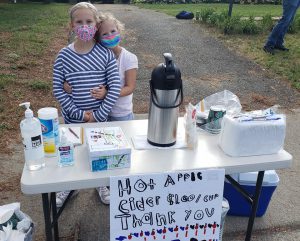 They made $200 from the stand itself, and were able to raise a total of $1100 including personal contributions from friends and family. They donated the money to Feed More, a central Virginia-based hunger relief organization. Each dollar donated funds four meals, so the Anderson girls made sure 4400 additional meals are now available to Richmond metropolitan area residents in need.
What can you do to help your neighbors in need today?
---
June 24, 2020
Scantron employees have been busy making the best of at-home time by spreading inspiration, generating cheer, and giving back to the communities around them.  Read and try some of the ideas below.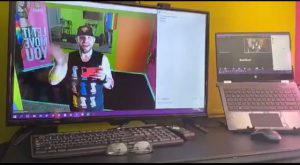 In the evenings and on weekends James Mettert is a Zumba instructor.  He has committed to continuing his classes for free over live stream on Zoom meetings.  Students join the classes by visiting https://zoomzoomfitness.wixsite.com/livestream. James has created a mini Zumba studio in his basement and states it has been an absolute joy to be able to continue to bring fitness to the community to help them stay active and happy.  Thank you James!
Sarah Mastrianni made snack bags for the local police department. During some of the recent protests, police officers, including a good friend of the Mastrianni's, were deployed on very long shifts. They said some snacks would be great, so Sarah and her daughters made 50 bags filled with different goodies.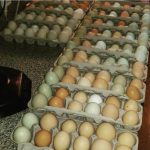 Jennifer Neal donates eggs weekly from her hobby farm to local food banks.
Sue Steinkamp's niece and her significant other started a business on Facebook: @BODOmasks. They are sewing and selling masks. For every mask sold, they donate one to medical staff, emergency responders, and vulnerable community members. Sue, along with her immediate and extended family, are buying masks for themselves and others and donating cash to support Sue's niece in making masks for those in need. They have donated around 1,000 masks so far!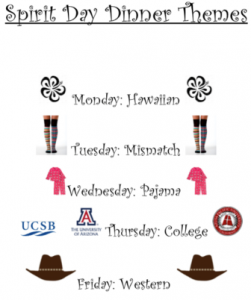 Margarita Alvarez has been making and sharing baked goods (cookies, muffins, and bread) with friends and family.
Spending time with family never gets boring when you incorporate good ideas like Amanda Jewell's. 
Her family had an at-home spa night with pedicures, manicures, and facials.
They also had themed dinner nights for a week where everyone dressed up.
When their daughter couldn't attend her Prom, the family still celebrated by everyone dressing up in formal wear for that night.
---
May 21, 2020
We have another great example of one of our Women's Network members supporting the community.
During the Nebraska Flood in March 2019, Robin Ebel and family arranged for a pizza delivery to their stranded neighborhood. Over a six day period, her neighborhood along the Elkhorn River was stranded. The two roads to her neighborhood were under gushing flood waters and later, when the waters subsided, the roads were destroyed and washed away.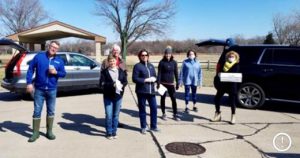 Her good friend, Dustin Heng, owns Oscar's Pizza and Sports Grille in Omaha. What began as a joke about getting pizza delivered on an airboat became a reality. An airboat owner had donated his boat and time to carry the local fire department to and from her neighborhood for two days.
Almost a year to the date later, Dustin faced a struggle of his own. COVID-19 restrictions caused extreme changes to Omaha local businesses and the ever-busy restaurant, Oscar's, was suddenly limited to carry out orders only. This meant that many employees were laid off and food and drink sales plummeted. So, on the one-year anniversary of the unprecedented pizza delivery, Robin and her significant other took the opportunity to "pay it back".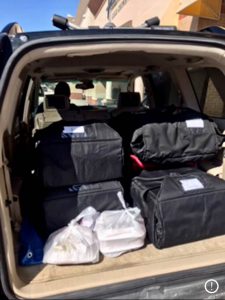 They posted an announcement on Facebook that they were taking orders for Oscar's pizza to be delivered on Saturday that week. They offered limited pizza choices at increased prices (extra money for a tip!)
The neighbors met the post with excitement, still remembering that Dustin's generosity meant so much to them. They took orders via emails/texts and collected money via PayPal and checks/cash in a box outside their house. Some didn't order pizza but donated money toward the tip. And others added extra money toward the tip.
Robin compiled the orders in a spreadsheet with pizzas listed in the order of street addresses. Dustin used the spreadsheet to make pizzas in the same order, stacking the boxed pizzas in an organized manner for volunteers to deliver. They had four delivery teams each with a driver and a delivery person. For the protection of the neighbors, some whom are elderly, the delivery person donned a mask and disposable gloves.
The effort was a great success! They delivered 65 pizzas and a tip that shocked the Oscar's employees! (And they actually delivered the pizzas within 20 minutes of arriving in the neighborhood!)
---
April 28, 2020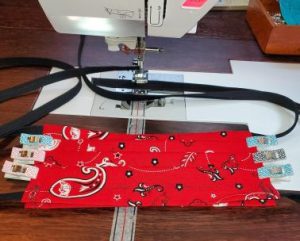 The Scantron Women's Network encourages everyone to think of ways to support one another and our communities from afar.  Here is a great example of how Scantron Client Program Manager Valerie Batley-Brown is going above and beyond to help others in her community.
Valerie and her husband are making fabric masks for family members and others who are essential workers.  They also made masks for workers at her husband's job and will continue to sew masks as she believes this will be our new normal.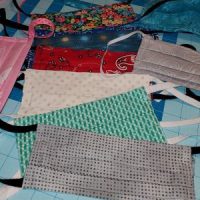 Valerie has made several masks from supplies on hand and by ordering elastic online. These masks have a nose wire and a pocket for additional filter material. To make the filters for the masks, she and her husband carefully dismantle air conditioning filters and use the pleated fabric from the filter in the pocket.  Part of the process is washing and ironing the masks.
Thank you, Valerie, for inspiring others to take action and give back to those around you during this difficult time!
---
April 13, 2020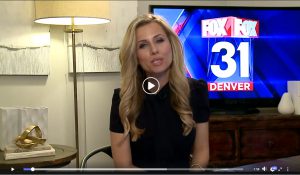 Scantron Senior Assessment Development Specialist Jackie Behm is giving back to her community during these unsettled times. Jackie noted that as parents support their children during stay-at-home and school closures, many are struggling—particularly around math. Jackie, a former math teacher, has a private YouTube channel she set up to help former students that she expanded to support any student with math questions.
Visit KWGN-TV's Natalie Tysdal's Facebook page to watch the story about Jackie's efforts in her home community of Denver, CO.