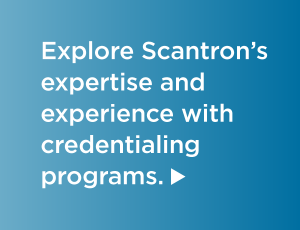 The concept of credentialing has been around for a very long time. In fact, some reports show that physicians were involved with credentialing processes in Persia around 1000 BC. Credentialing is the process of assessing the competency and qualifications of a person within a particular field or subject matter area. Certification and licensure testing services are a requirement for individuals to demonstrate their competency before working in many professions. In other cases, passing a high-stakes exam provides the means for these individuals to market their expertise to consumers or employers seeking skilled professionals.
Credentialing in simpler terms is a clear means of indicating that professionals in your field have met your important standards. That is why there is no shortcut to creating reliable, valid and legally defensible examinations. Putting together such examinations is a very detailed and thorough standards-driven process that requires extensive rigor and experience.
Scantron has developed a Credentialing Checklist to help any organization choose the right testing services vendor. There are a number of critical questions that need to be asked to determine whether the vendor has the capabilities and experience to develop a new exam or an entire exam program. Scantron has built an excellent reputation for the development of high-stakes examinations and practice tests in fields ranging from engineering to medical technology to physical fitness.
---
The Credentialing Checklist
As you consider the development of a new credentialing program or seek strategies for growth of an established program, choosing the right vendor is key to your success. Scantron has partnered with hundreds of associations, corporations, and government bodies over the past 30 years to successfully develop, deliver, and grow both national and international credentialing programs. Scantron's policies, procedures, and technology enforce best practices in the testing industry according to NCCA, ANSI 17024:2012, and ABSNC standards. When selecting a testing services partner, the following essential capabilities should be evaluated:
Psychometrics and Leadership
Are the psychometricians and organizational leadership well regarded by others in the industry?
Have they held key leadership positions in the credentialing industry?
Have they worked with a variety of clients and a diversity of professions over a long period?
Does the testing vendor have a sufficient number of highly trained psychometricians to support your program at all stages?
Have they demonstrated their ability to provide sound consultation and advice in accordance with NCCA and ANSI 17024:2012 requirements?

Scantron offers extensive experience gained through years of service in leadership positions with the Institute for Credentialing Excellence (ICE), the National Commission for Certifying Agencies (NCCA), the American National Standards Institute (ANSI), and the Council on Licensure, Enforcement, and Regulation (CLEAR). Our psychometric expertise is widely recognized and has been solicited for leading publications such as Certification: The ICE Handbook, Guidelines for Performance Examinations (ICE), and the revised Joint Technical Standards for Educational and Psychological Testing (AERA, APA, NCME 1999).
Technology and Platform
Are psychometric best practices fully integrated into the tools and technology?
Has the technology and testing platform evolved through organic growth in response to the industry's needs or merely through acquisition?
Are you paying attention to whether a vendor's technology offerings are based on acquired tools and systems that were never designed to work seamlessly together from the start?
Scantron is a recognized industry leader in the development and delivery of new item types for Internet-based testing and innovative technological solutions associated with high-stakes testing. Scantron employs our combined psychometric and information technology expertise during the development of Scantron's proprietary software tools and technology (ADE®, PASS®, Connect®, ContentLock®). We are committed to maintaining the psychometric integrity of each examination program while applying innovative and cost-effective technological solutions to the development and delivery processes.
Technical and Customer Support
Is your testing vendor outsourcing its technical and customer support?
Are you confident that the candidate interactions with testing personnel accurately reflect the values and reputation of your credentialing organization?
Is customer support outsourced thereby compromising the vendor's ability to fully understand and respond to your organization's values and objectives?
Scantron's customer support staff consistently demonstrate patience and kindness while providing prompt and knowledgeable assistance to your candidates. We offer the best customer support in the testing industry.
---