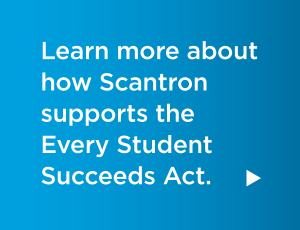 One of the goals of the Every Student Succeeds Act (ESSA) is to put power back in the hands of schools and districts. Within their state accountability systems, states may evaluate students through "a single summative assessment; or through multiple statewide interim assessments during the course of the academic year that result in a single summative score that provides valid, reliable, and transparent information on student achievement or growth."
Though there are many ways to evaluate complex and detailed school accountability plans, the Thomas B. Fordham Institute evaluate all 51 ESSA plans against the following three primary criteria.[1]
Assigns annual ratings to schools that are clear and intuitive
Encourages schools to focus on all students, not just low performers
Measures all schools fairly, including those with high rates of poverty
We believe a balanced interim assessment approach is part of effective accountability. Such an approach uses adaptive tests that are grade-level independent to measure current ability and advances over time (i.e., "how much have they grown?") plus fixed-form, on-grade tests that concretely measure whether students have proficiency in a specific set of knowledge (i.e., "do they understand this grade-level standard today?"). By balancing these two types of assessment (growth and proficiency), states, district, and schools can meet and exceed the criteria above.
Consistent interim testing across the schools in a state or district, using the same scales and the same testing mechanisms, helps promote fairness and clarity regardless of the socio-economic status of the school. By using a balanced system that includes both types of measures (growth and on-grade proficiency), states and districts can more easily measure schools fairly. In addition, evaluating measures beyond grade-level proficiency encourages a focus on all students throughout the year, not just those students "on the bubble" – falling near an annual proficiency target.
Our students, educators, and parents deserve assessment results that inform instruction and easily lead to an effective measure of accountability. A balanced assessment system is the best way to achieve that goal. That's why Scantron developed a balanced assessment solution that provides multiple assessment metrics to highlight a holistic view of student, school, and district performance and to ensure a fair and accurate approach to your accountability program.
[1] Rating the Ratings: An Analysis of the 51 ESSA Accountability Plans, Wright B.L. & Petrilli M.J, Washington, D.C.: Thomas B. Fordham Institute, November 2017.
---