Superior Content, Exceptional Delivery
At Scantron, we believe that assessment and instruction are inseparable.  Assessments should reveal important insights about student learning and support instructional choices.  That's why Scantron developed Achievement Series and Performance Series.
Use the complete, solution to increase your accountability options without increasing your testing time or choose individual modules and item banks to suit your needs.  This comprehensive, balanced solution makes it easy to use adaptive assessment for diagnostic and placement measures, while still having the flexibility of fixed-form items and tests for benchmarking assessments.

"Scantron has provided the tools needed to validate student learning and support teacher decisions to move students to the next Performance Level when they are ready. Our Competency Based System (CBS) requires multiple data points over time that accurately demonstrate past performance and predict future success."
Dr. Oliver Grenham Chief Education Officer, Adams County School District 50, Colorado
Adaptive Assessment
Performance Series provides computer-adaptive testing you can use to identify student attainment of standards for the cognitive levels that can be measured effectively by an assessment, independent of each student's grade‑level abilities. Administered over time, these tests provide a longitudinal view of student growth in core curriculum areas (Reading, English Language Arts, Mathematics, and Science).
Benchmark Assessment
Achievement Series expands your assessment abilities with a fixed-form approach so you can measure grade-level proficiency. Item and test banks for core subjects available. Includes an item editor to create questions that can support tests for any subject.
How can a balanced assessment solution support a comprehensive assessment strategy?
The real power of Scantron comes from the unified system that enables you to balance both types of tests to provide more holistic results for your multimetric accountability system.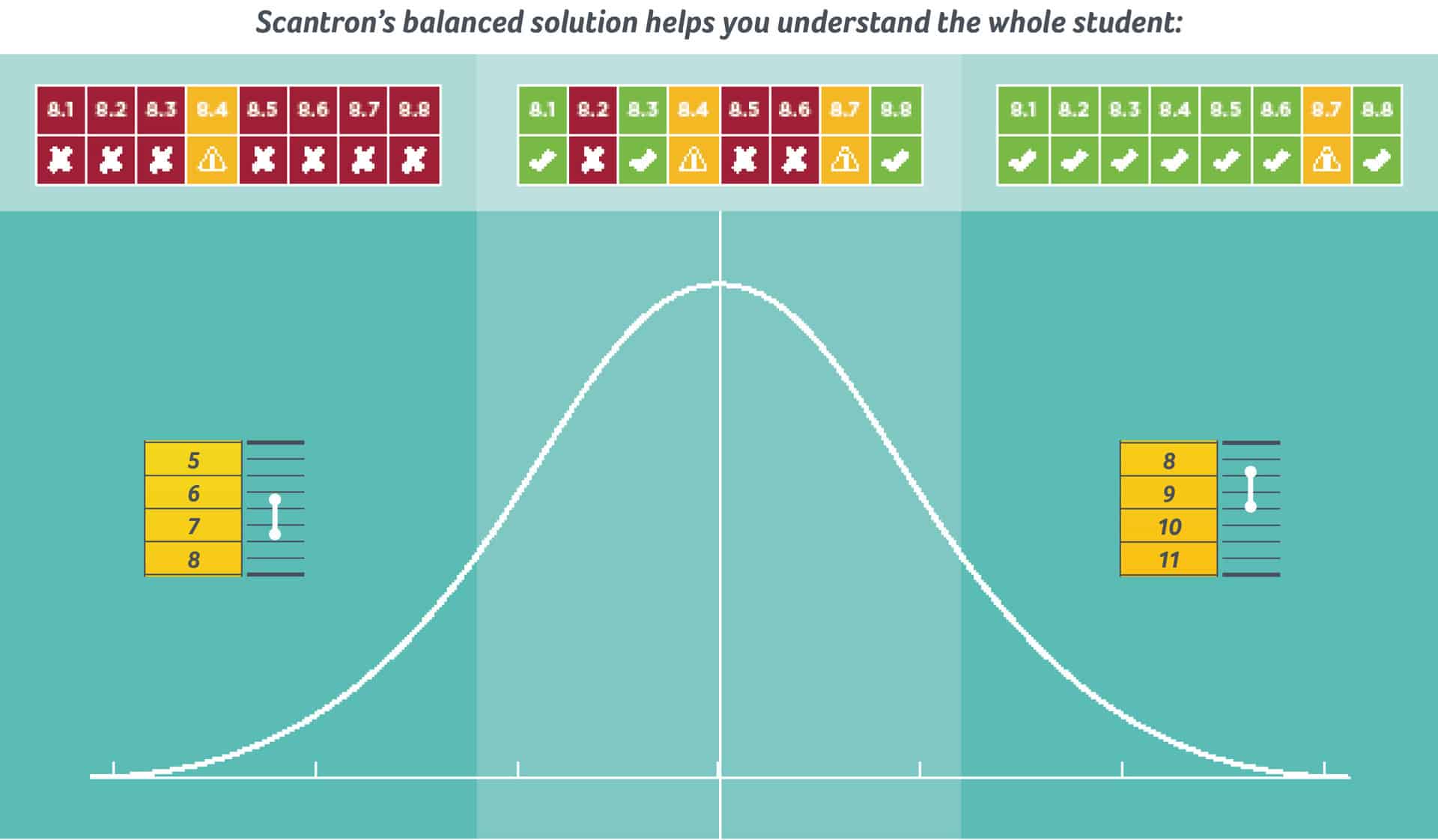 Two approaches expand your options:
Start with adaptive, then expand domains with fixed-form
Another approach is to use Performance Series adaptive tests two or three times during the school year for the entire student body as a growth measure in the critical core subject areas.
You can then use Achievement Series to build shared content and fixed-form assessments for other subject areas, such as other languages, arts, social studies, CTE, or any additional curriculum areas.
This approach uses adaptive assessment for all students in the core subject areas (Reading, Language Arts, Mathematics, Science), while leveraging fixed-form tests to target specific standards at any appropriate point during instruction: end-of-unit tests, grading period or semester exams, district interim testing, and more.
Balancing both test types in this way, you can achieve a broader set of subject metrics to identify college and career readiness.
Start with fixed-form, then drill deeper with adaptive
One way to approach a balanced solution is to start with traditional, grade-level-specific, fixed-form assessments in Achievement Series to measure all students.
However, these on-grade snapshots only provide part of the picture. While they identify where a student is, they don't measure significant gains made toward closing achievement gaps. They also don't identify high-performing students who need more challenge.
In this approach, you would next use Performance Series to help you investigate extremely low- and high-performing students. Those results then drive additional support and help you adjust instructional strategies.
Balancing both test types in this way, you can achieve a more holistic view of student performance in multiple dimensions.
You give assessments—but what do they give back?
With Scantron, results are available in dynamic, detailed, and readable reports as soon as students complete a test—no more waiting for a centralized authority to receive and process reports into a spreadsheet or static printed report. And those results can be tied directly to your state's chosen educational standards and our selection of instructional resources, making it easy to identify trends and adjust instruction in real-time.
Further, Scantron assessment results are not just connected to standards or even strands. Our results identify proficiency all the way down to the individual skills that make up a strand and standard so you get the most specific detail possible to close achievement gaps and design individual, personalized instruction.
In addition, by adding Scantron Analytics, you can explore the implications of test results in context with other crucial student data such as attendance, discipline, grades, additional assessments, etc. Using these metrics enables you to easily identify trends and patterns and design intervention and remediation based on evidence.
"We're seeing an influx of Hispanic students. [Scantron's Matemáticas en Español test] helps us ensure that their Math scores reflect their understanding of Math, not English."
"I get instant information—just zap! Grade level estimate? Zap! Comparison to national norm group? Zap! I plug [the student profile] in [to the IEP], I read it, and I'm done. It gives us everything we need. I'm able to individualize more and more now that I can easily see the strengths the student has to build on. Scantron touched it all—there was very little that was not already provided."
"When you're properly placing students and not frustrating them, you see accelerated results. Many of these students arrive with little or no formal records. Having a method like Scantron to acquire baseline data ensures we can match students to the right instructor and curriculum so they can succeed."
"Scantron has helped our schools determine the specific needs for our students individually and showed us how to promote success in the future."
"Scantron has helped us pinpoint (along with other data) the level in which a student is functioning,"
"The higher number of logins to Achievement Series a school has, the higher their state test results are. And schools who are using Scantron Analytics are seeing reduced behavior problems. The tests just work. They're flexible and reliable. And with all this data at our fingertips, we're
better prepared for ESSA. We're really feeling ahead of the game."
"When I began working with Scantron 12 years ago, I didn't know what a treat I was in for. It continues to be a wonderful partnership. One of the best qualities of Scantron's products is that no matter what has happened, Scantron has been there for us. After a year of looking at different products, no other product on one platform could fulfill all of our superintendent's dreams. If I could have only one assessment tool to replace everything else I've ever worked with, it would be the Performance Series."
"Our number one asset with Scantron is how we're able to break down benchmark data to individual skills and design remediation and enrichment in a targeted way. The detail in growth reporting is second to none. That's something a lot of other systems don't provide. I've thoroughly investigated some of Scantron's competitors—their comparisons and correlations are more abstracted 'recommendations' based on the student score. Student results from Scantron's computer-adaptive test are more clearly and directly connected to standards and skills than others. One of the top returns on investment for Scantron is how it's an early indicator. We see a prediction accuracy rate of 94% between Scantron results and the state test."
"We want all teachers, counselors, and administrators to constantly use Scantron Analytics in order to monitor student achievement. We want our educators to use the tools in Analytics, so they can remediate academic weaknesses as well as celebrate academic successes in 'real time'. Scantron Analytics helps us see the complete picture and track our students' progress toward becoming educated adults. We look forward to using Scantron Analytics to become an increasingly successful school system that meets the academic needs of all students."
"We're impressed with how our Client Program Manager listens to us and does what's necessary to give us what we need to succeed. They're a big part of creating and refining the solution. They're on board and open to requests. We could not be more pleased that Scantron cares as much about our success as we do. They are a fully invested partner."
"The biggest return on investment we have seen is the conversations in the halls. Due to common language around pacing, scope, sequence and common assessments, teachers are easily and readily conversing about instruction and about the data and about achievement. There's no more post-mortem at end-of-year—these conversations are happening now. That was when I really knew we were going to be okay."
"We went from data review taking days using spreadsheets to minutes using Scantron Analytics. We're not only able to answer our original questions more quickly, but we're now able to dig deeper and answer questions we couldn't even have asked before."